Academics
Ars Longa, Vita Brevis: Life is Short, Art Endures
The Porter College theme, Arts in a Multicultural Society, reflects the consensus among Porter College fellows that the creative process is an inseparable aspect of a broad-minded and rigorous education. The seminars, cocurricular activities, and cultural environment at Porter encourage creativity in all fields from composition to community studies to computer programming.
Porter's faculty includes most of the campus's practicing artists and art scholars, though some of the college's faculty (and half of its students) specialize in the humanities or in the physical and biological or social sciences. The college is the administrative home of the Division of the Arts and the History of Art and Visual Culture Department. The Digital Arts and New Media Program also has offices here.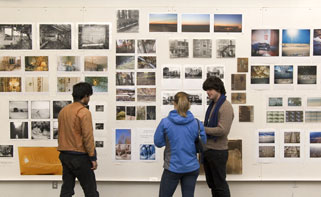 Porter 80, the core course, focuses on writing across the arts, with concentration on literature and arts of California and the Pacific Rim. Those who are admitted as transfer students are exempt from the core course requirement but may take the core course at their option pending available space; lower-division transfer students who, prior to enrolling, have not completed at least one UC-transferable college English composition course with a minimum grade of C (2.0) or better are permitted to take the core course to satisfy the C1 requirement. Students meet with their faculty member in a seminar, attend regular lecture/performances, and participate in writing groups, advising, and other sessions that introduce some of the academic issues they will confront at the university. The course emphasizes critical reading, writing, and close intellectual contact with faculty and other students.
The college also offers 2-credit courses in a variety of areas connected to the arts. These are small classes in the practice or theory of the arts; they may include investigation of a particular style of music or dance, visits to Bay Area theaters and museums, working in the arts, or creation of a show in one of the college galleries. These diverse offerings allow Porter students to understand the significance of creativity in a university education.
The college provides fellowship funds each year to talented students pursuing original research and creative projects.
We believe that creativity is integral to all fields of study from art to physics to linguistics, and we make every effort to promote an environment in which original thought, creative imagination, and personal and cultural difference are appreciated.
The core course, Writing Across the Arts, addresses social, political, and aesthetic issues raised by selected works of literature and art in a variety of media. Students participate in seminars, group discussions, and performance events. They work in small groups with the core course instructors and instructional assistants (upper class students) to develop their skills in writing, verbal presentation, and critical reading and analysis.