Commencement 2017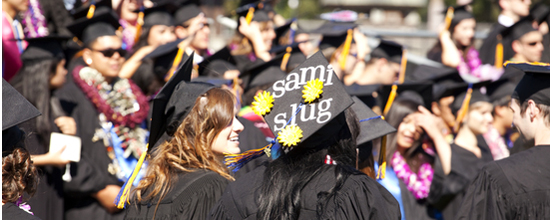 2017 Porter College Commencement
The Commencement Ceremony for the Porter College Class of 2017 is scheduled for 9:00 am Saturday June 17, 2017 at the UCSC West Field (aka "Oakes Lower Lawn").
The Commencement Ceremony is one of the finest of Porter traditions.  The ceremony traditionally includes faculty and student speakers, recognition of the recipients of the College Service Award, and of course, conferral of your Degree.  But more importantly, it is a celebration for you and your achievements.
For students planning to complete all your graduation requirements Fall Quarter 2016:  Don't forget to File for Candidacy / Apply to Graduate with the Registrars Office (apply via your Portal). Deadline for Filing in Fall 2016 is October 21; Winter 2017 deadline is February 3; and Spring 2017 deadline is April 28. 
Don't forget: If you are planning to walk in the June Ceremony, you will need to Register to Walk in the Porter College Commencement Ceremony via this website after January 1, 2017.