Maps and Directions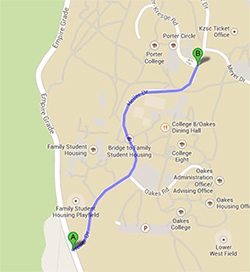 Porter College is located within the northwest area of UCSC. Enter through UCSC's West Entrance located at the intersection of Empire Grade Road and Heller Drive ("A"). Proceed along Heller Drive continuing past three stop signs. Then on the left, there will be a sign for Porter College("B").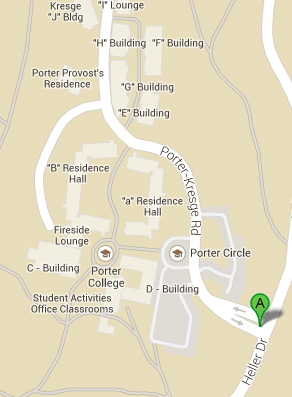 Turn left on to this roadway ("A) and parking will be available in the gray three areas: 2 areas to the left and 1 to the right. There is limited metered parking in addition to Permit Parking. Permits are required to park in the reserved spaces. Visitors may purchase permits from the Kiosk at UCSC's main entrance at the intersection of Bay and High Streets. At this time, permits are not required for parking after 8:30pm during the week or any time Saturday or Sunday. For more information on Permit Parking, contact the Transportation and Parking Services (TAPS).
A complete interactive UCSC campus map is available on the UCSC Maps website.