Activities
Do you love Porter? Be a Porter Slug! Porter Activities is looking for student leaders to contribute their time and skill to be orientation leaders. You will be required to work commencement, fall move in, and welcome week. Applications are due April 12th. You can visit the Porter Actviities Office for a hard copy application or download one here. Contact porter_activities@ucsc.edu for any questions.
The diversity and creativity of Porter students is reflected in the wide variety of activities and events the Porter Student Activities Office facilitates in conjunction with student groups, student government, faculty, and staff.
Student activities at Porter College include a broad calendar of events and activities such as graduation, orientations, film series, concerts, lectures, workshops, dances, and off-campus outings. Other events include College Nights that feature cuisine and performing arts from a variety of cultures. Student performances, art shows, and theatre productions make up a good portion of the college activities program.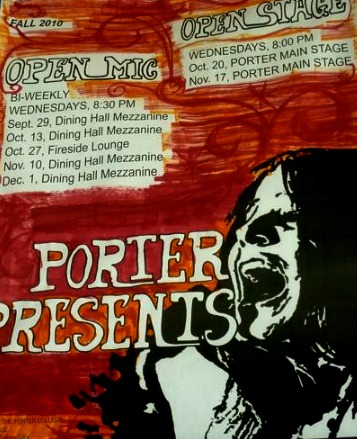 Our success depends on your involvement. We are here to help you with planning, organization, publicity, funding and contract negotiation with performers. Stop by for informational brochures, for help conquering the bureaucratic maze, and to make your life beyond the classroom more meaningful and fun.
The College Office and the Student Activities Office (D-143) are excellent resources for finding out what's going on academically and socially.